Hosting AN Afternoon TEA
Hosting an Afternoon Tea Party can be a lot of fun and a good opportunity to have a pleasant and unique experience. This page will outline the essentials for a successful Afternoon Tea Party.
I was so nervous the first time I decided to host an Afternoon Tea. I knew what I thought it was in my mind, but actually doing it, and doing it right was a whole other thing. I relied a lot on my imagination and a little bit on a collection of cook books. My Tea Party turned out AWESOME but I wished I had more resources to go to so I could make it even more special.
I have created this site to share with you what I have learned and will continue to learn as each Afternoon Tea Party is hosted by me and my followers.
Grab a cool looking planner, follow these steps and your Afternoon Tea Party is sure to be a winner:
1.   Decide on the Purpose of the Afternoon Tea.
Decide on a theme or event you want to celebrate. Your event or theme could be something as simple as a Romantic Tea for Two, or as complicated and big as a Baby Shower. Maybe you do not even need an excuse to have an Afternoon Tea Party - it could just be a Tea.
Some ideas for an Afternoon Tea Party include a luncheon with a friend or a co-worker, to impress a prospective client, for a holiday, as a romantic dinner with a loved one, for a child's birthday party, to celebrate your favorite theme, as a fund raiser or just about any other reason you can come up with.  
2.    Pick a date and time.
Choosing a date and time may seem obvious but may not be as easy as you think. You know what they say, "Timing is everything".  Clearly you do not want to schedule a Garden Party Tea in the winter or a Christmas Tea Party in July. Make sure your event or theme is scheduled at the right time of the year for it to make sense.
When considering the time of day, remember that it is called an Afternoon Tea Party for a reason. If it is late in the day it will be a High Tea and the type of food served can be heavier.
With the date and time, you also want to consider what will work the best for the people you are inviting. A fund raiser which may attract senior citizens probably should not be scheduled for late in the evening when it might be difficult for them to drive. Likewise, a baby shower Tea Party would not be early in the morning.
3.  Prepare the guest list.                                                                                            
Remember that this is an Afternoon Tea Party and you want to invite people who can appreciate the unique opportunity this will be. It will be an eloquent event and you want people who will enjoy that type of an atmosphere.
Whenever preparing a guest list try to incorporate people who will blend well together. Obviously if it's your child's birthday party you will have to invite family that may not appreciate your efforts, but if it's a group of friends, you can be more selective.
Once you have the list prepared, gather the information you need for sending out the invitations. I suggest having a full address list including street address, email address, fax number and telephone numbers. This will give you flexibility in the method of invitation you want to use.  Having it all in one place helps to keep everything organized.
4.  Send out the invites.
Invitations can be as simple or as fancy as you like. You can make a phone call to everyone on your list (assuming it is a small list). You can step it up a little by designing an invitation and sending it via email. Or you can get really fancy and send a formal invitation by mail.
Whatever method of service you choose for your invites, you need to make sure to include the following:
a.   Date, time and place.
Make sure to indicate if the Tea Party will be held indoors or outside
b.   Type of event.                                                                        
Your guests will need to know if it is a birthday party and they need to bring a gift or if it's a theme related party like The Mad Hatter.
c.     Dress code.                                                  
Will your party be formal or casual? Will you want people to dress up for a Tea Party, i.e. with a dress, hat and gloves? You need to communicate this information to your guests so they do not feel embarrassed because they are not appropriately dressed.
d.   Ask for an R.S.V.P.                                         
It is very important to include this. You need to know for sure how many people will be attending. If too many cannot make the date you may need to reschedule. You also need to know how much food to prepare.
5.    Prepare the menu.
This is the most important aspect of your Afternoon Tea Party. It should be Afternoon Tea appropriate but can also be fun and imaginative. To me it will not be an Afternoon Tea without three things: cucumber sandwiches, scones and, of course, tea. After that it is fair game.
 When preparing a menu make sure to take into consideration dietary issues and allergies of your guests. Allergies to food have been on the rise and should always be factored in. I had an Afternoon Tea Party where I was aware of my friend's one allergy to fresh mint so I made sure to make her an iced tea without it. I did not know she was allergic to walnuts which were on one of my sandwiches. Luckily she realized it at the first bite and it just required a little allergy medicine. If your party is too large to get everyone's dietary concerns, consider labeling the food. Refer to our menu and recipe pages for menu ideas and recipes.
6. Tablescape, dishware and tea cups.
This is an opportunity for you to pull out grandma's lace tablecloth, your finest china and those specialty tea pots. It is your opportunity to entertain in style.
Collect cups, teapots, dishware and other accouterments. Your tablescape (s) is as critical as the food. It is all about the presentation.  There are a variety of ways to collect all of these items. You do not have to be rich You can borrow the items from a friend, use paper goods, mix and match what you have or go to garage sales and thrift shops to find your collectables.
My grandmother used to sing me an Italian song by Lou Monte called "Lazy Mary" where the mother is telling the daughter to wake up because she needs the sheets to use for a tablecloth. Think outside the box like "Lazy Mary's" mother to achieve the look you want.  
7. Make or buy favors.
Favors are a little do dad that you give to your guests to take home. They are not necessary or mandatory and will really depend on the type of event and what you are trying to accomplish. Favors do not have to be expensive or large. For my Easter Tea Party I gave everyone a daffodil to take home. It cost me $1.00 per person. It made my Tablescape that much nicer, gave everyone a take-away gift and because it was a plantable bulb, they will remember my Tea Party indefinitely!
If you are not a DIYer, you can also buy favors and they do not always have to be expensive either. I love the one dollar or less stores. You can pick up great chachkies.
8. Don't forget that perfect outfit!
Make a statement with your clothes! For a summer Garden Tea Party wear a light breezy dress with a wide rim straw hat loaded with flowers and cute sandals. A winter event could be a velvet skirt suit with a muff and smaller hat with a veil. Be eloquent and a little over the top because you are the hostess after all.
Pull it all together and enjoy!
HOSTING A SUMMER AFTERNOON TEA FOR THREE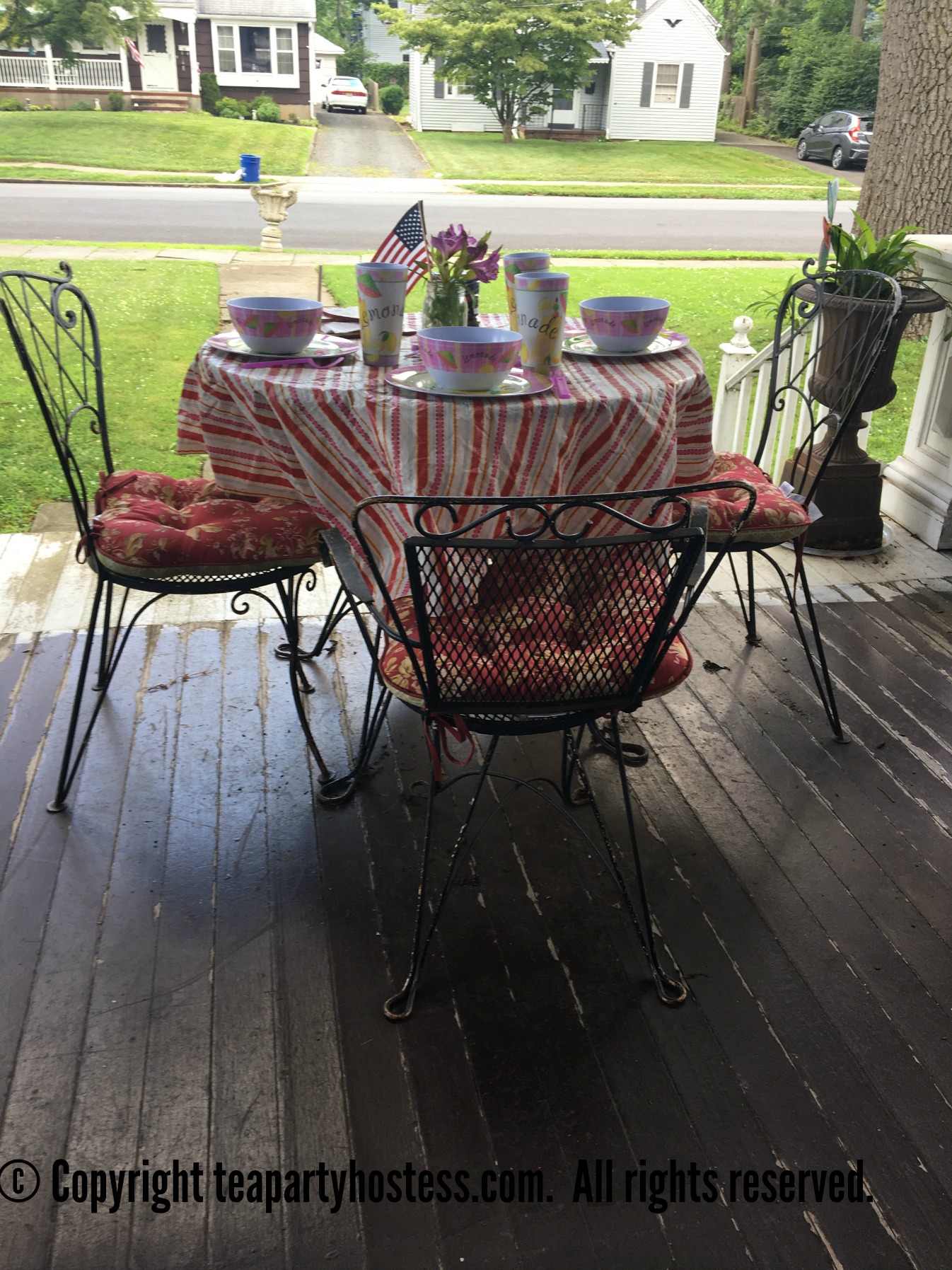 There is no better place than the front porch for an Afternoon Tea Party in the summer. You can enjoy the warm air and the summer breeze all at the same time. You get to experience both the human animals passing by, occasionally stopping to say hello and the non-human animals like squirrels, rabbits and an occasional deer. There is nothing better than this type of multi-level event.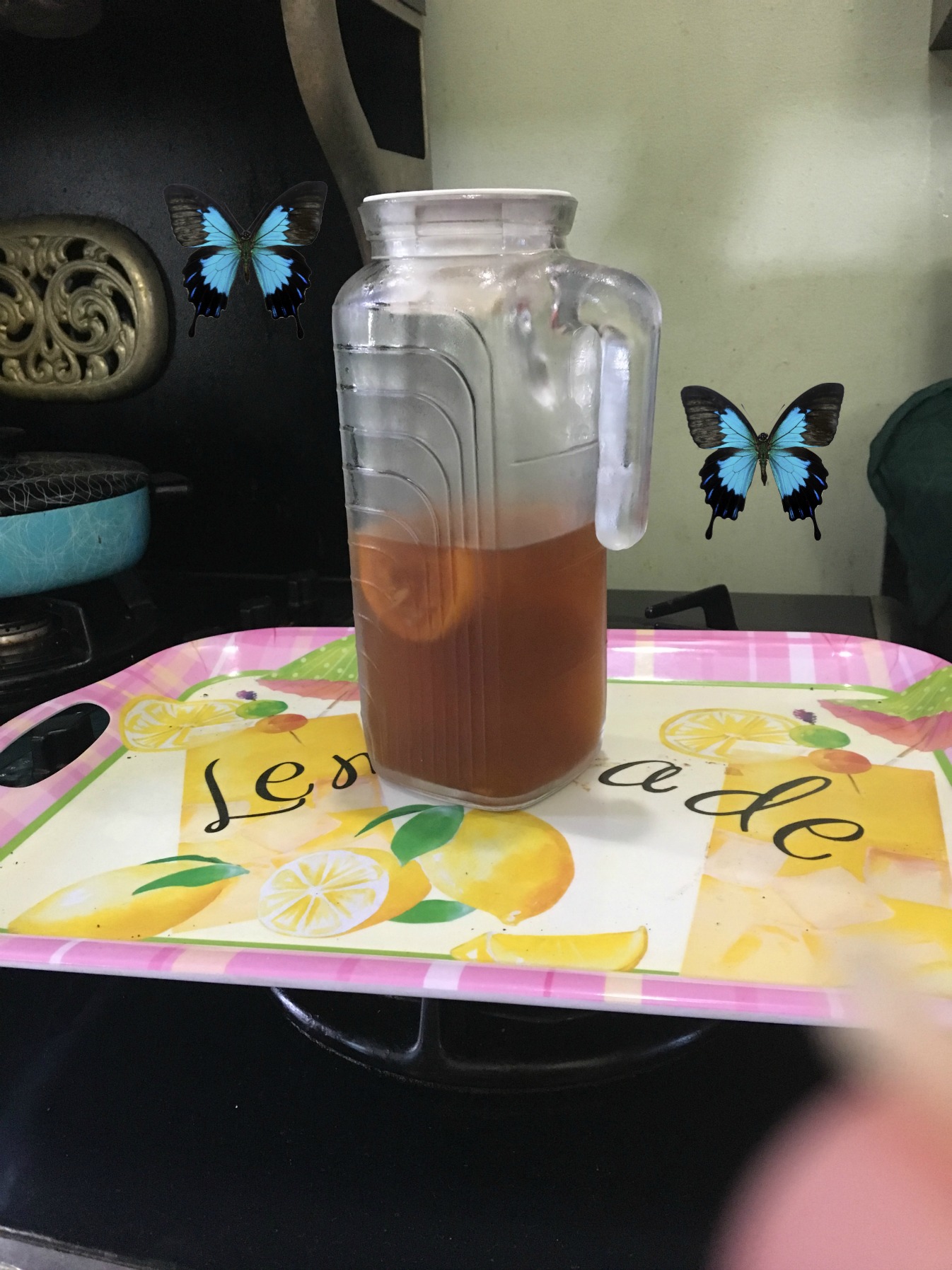 Most likely your guests will like something cold to drink so instead of hot tea, serve iced cold tea. Use an attractive Tea Tray, preferably one that matches your place setting like here.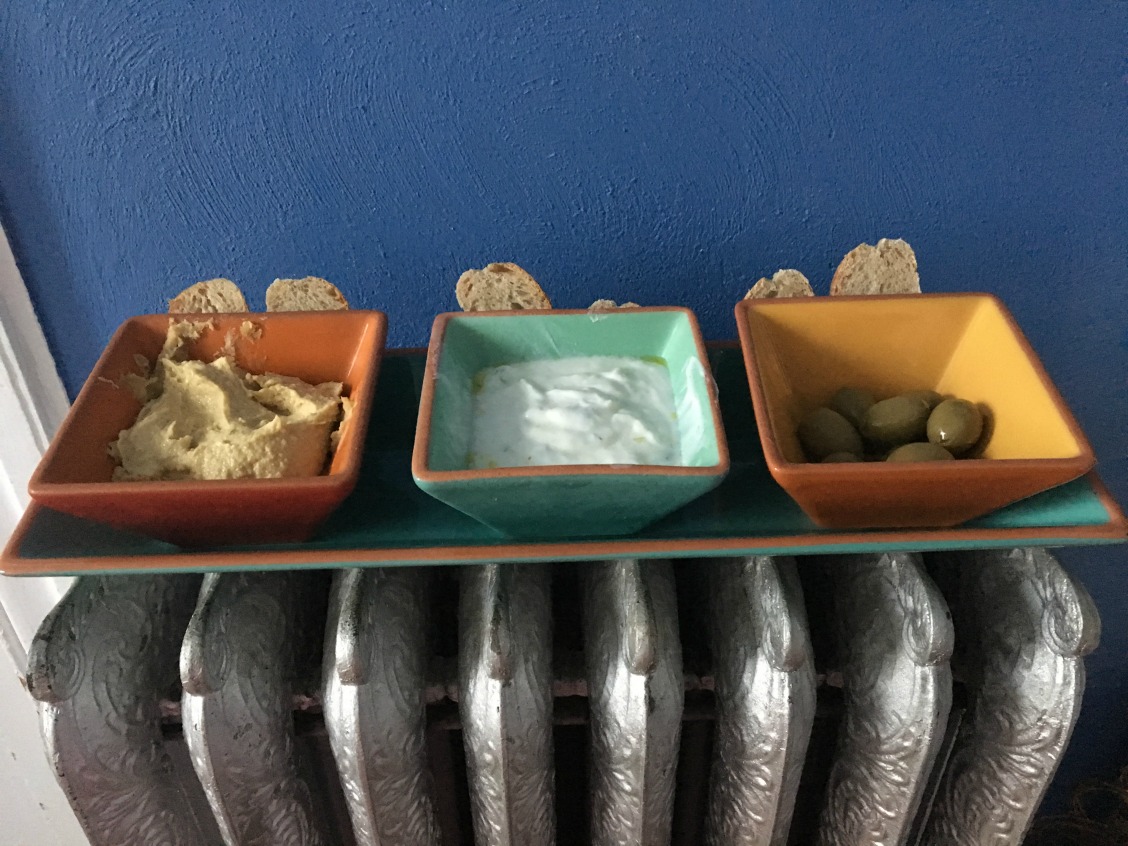 Food served should be cold, simple and flavorful. Nobody wants heavy foods in the hot weather. Here garlic hummus, garlic cucik and jalapeño stuffed olives are provided along with thin slices of Ciabatta bread.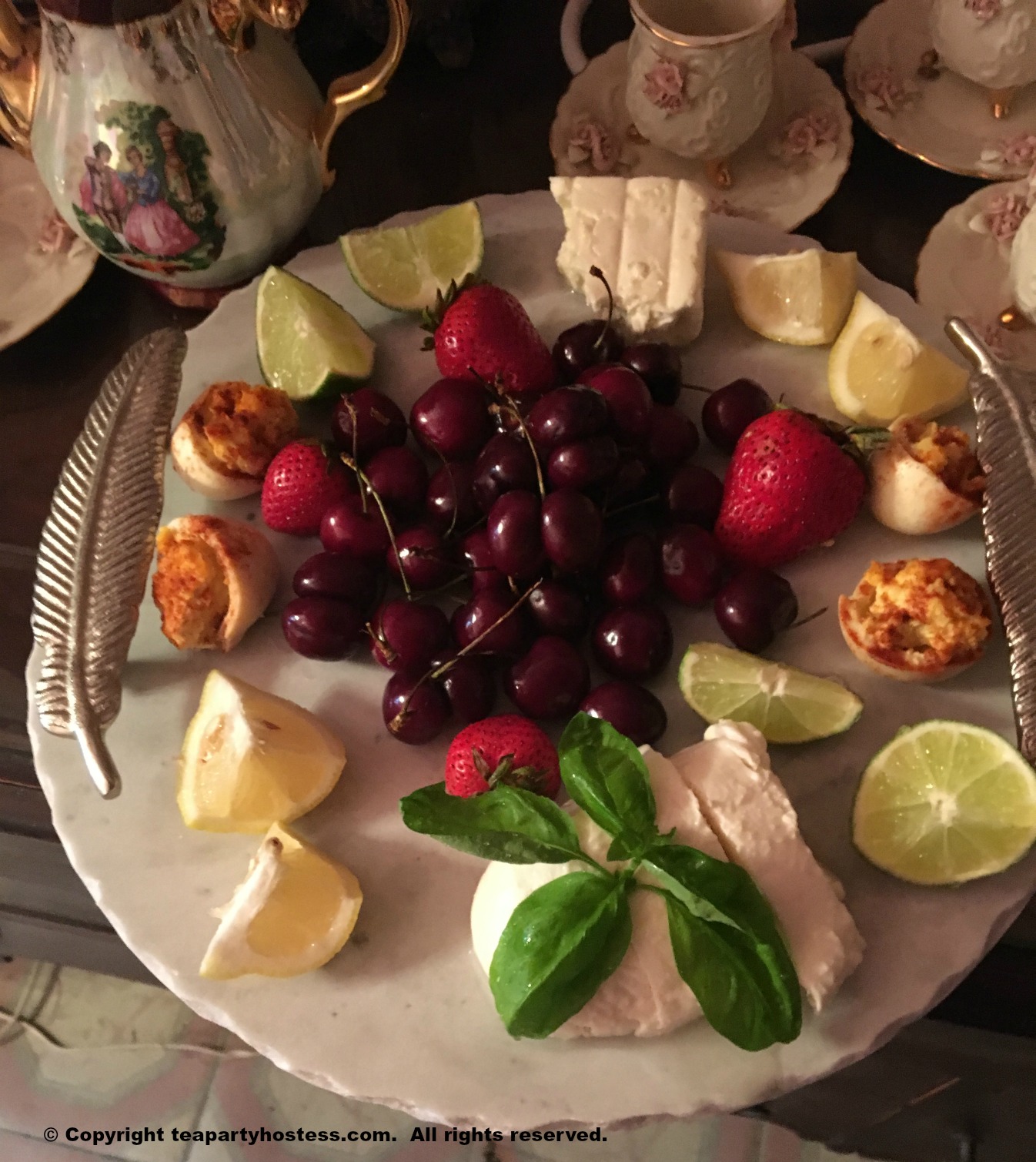 A nice cold foods platter consisting of feta cheese, fresh mozzarella cheese, deviled eggs, fruits and lemons and limes to add flavor to foods or drink will be appreciated by the guests. Simple, yet refreshing.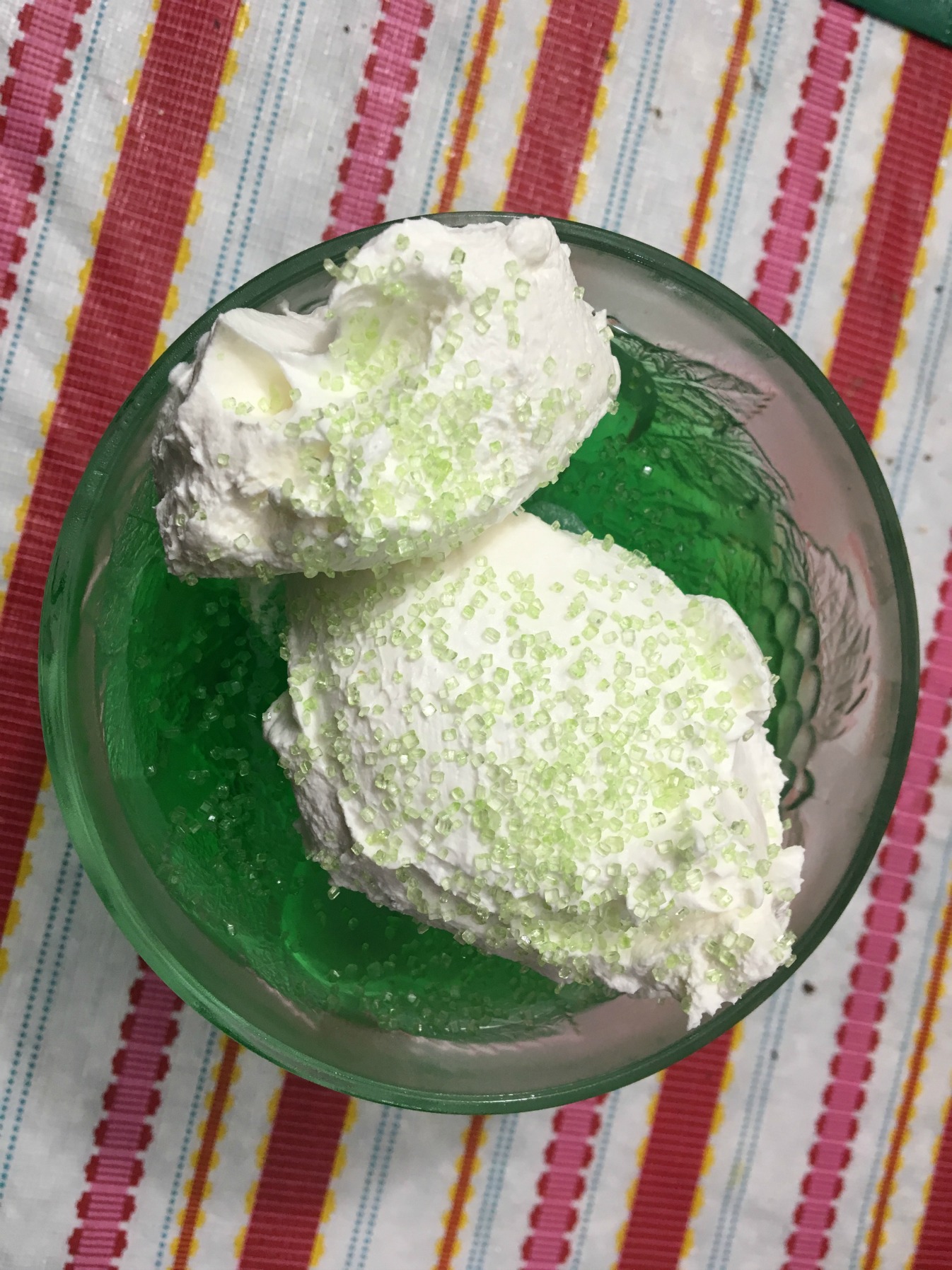 Cool lime gelatin with whipped topping and green sprinkles rounds out the meal.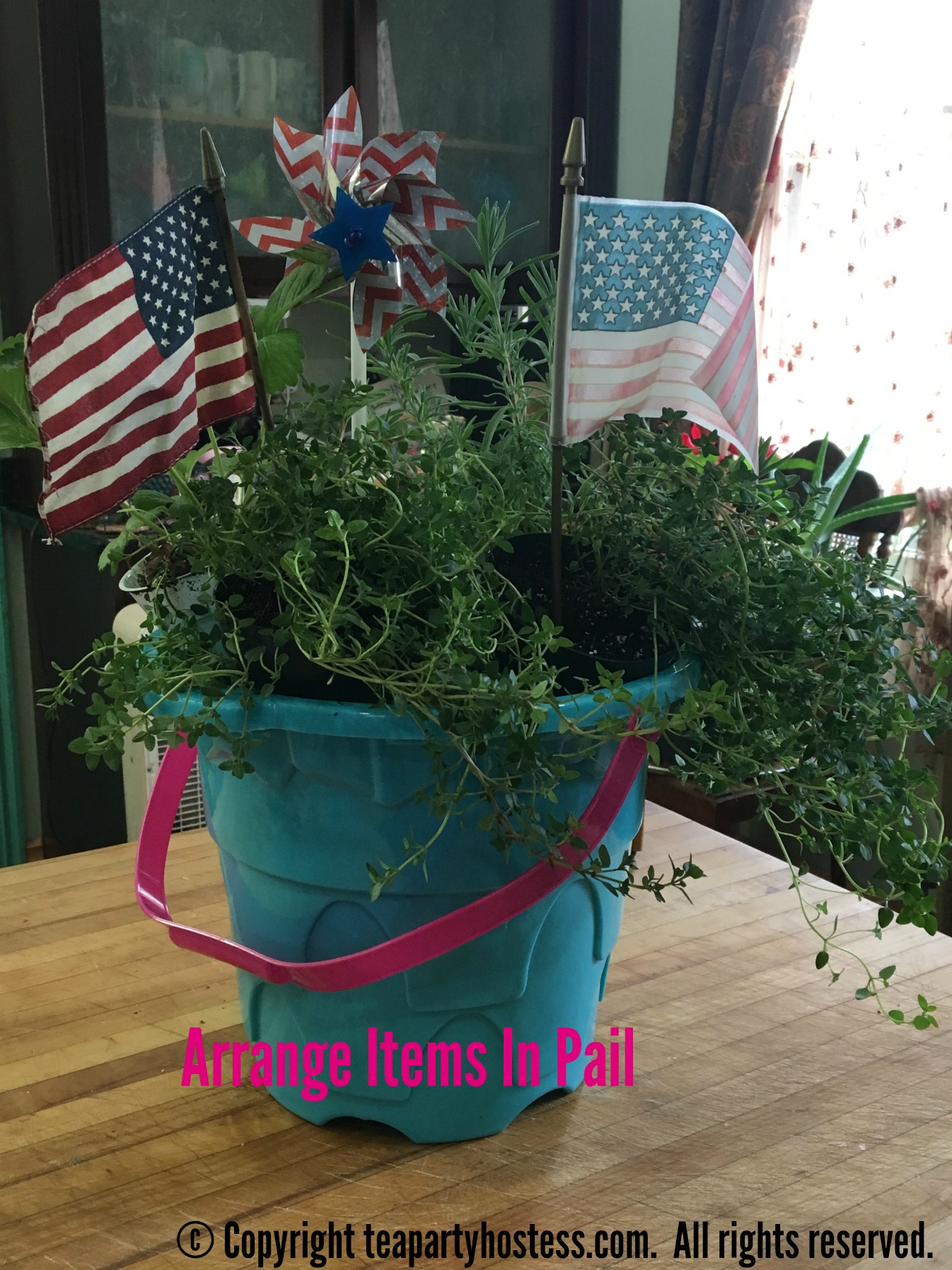 Send guests home with a pail of plants.