monthly tea party ideas archives
Did you miss one of the monthly Tea Party ideas on the home page? Well, you can find them all here so you do not have to miss anything at all.
May 2018

May is the month when most people plant their vegetable gardens. Why not mix garden planting with a Garden Tea Party? Invite 4 or 5 of your friends who do not mind getting down and dirty. Set up an outside table and chairs near the planting area. Make a light spring fare: scones with lemon curd and clotted cream; cucumber and cream cheese sandwiches, corn muffins stuffed with ham salad and tomato, mozzarella and basil skewers drizzled with balsamic vinegar. A simple ice cream with espresso for dessert would round out the event nicely.
In between courses you and the girls can get down in the dirt and plant those vegetables. Have soap and water nearby for wash-ups before going back to eating.
Send everyone home with a little thank you. A child's pail with fresh herbs ready for planting is a great take away and can be used as a part of your tablescape. If you are a good shopper this will not cost more than a few dollars to make and the price is small compared to the labor and camaraderie you will receive.
June 2018

June is a gorgeous month. The weather is not too hot or too cold. It is the month for weddings, graduations and other important life events. Take one of these events and turn it into a porch tea party. Set up tables and chairs on the porch, if you have a house with a big front porch that would be perfect.
Start your afternoon tea party off with a Turkish delight, cacik, which is essentially cold cucumber soup. Serve this cool, creamy and tangy dish in one of your fancy tea cups and it is sure to be a big hit. 
Make the event even more special by hiring a violinist. Can you see it now? A nice, lazy summer day, cool soup, cold iced tea, sumptuous tea sandwiches and good friends. Add some sun dresses, straw hats and a game of crochet and I am even coming to that Afternoon Tea Party!
March 2019
March is such a great month because the weather is changing, the sun is popping in and out a little and St. Patrick's Day appears every year on March 17! St. Patrick's Day is a fun day for many of us celebrating this terrific Saint ( for more about him go to https://www.catholic.org/saints/saint.php?saint_id=89) . As such, in addition to my big corned beef and cabbage dinner on the actual day, I like to have a friend over to enjoy a small Tea Party with me. Whenever I am hosting a Tea Party, no matter the size, I take pictures of the tablescape in advance. By doing this I can see what it looks like through a third party ( the eye of the camera) and make changes as necessary. Here it was all about the fun decorations. I used dish towels instead of napkins and made sure there was some good, old-fashioned Irish cream on hand. In my cabinets I dragged out the heavy green Italian glasses for my tea.
April 2019
April is a great month. Spring is here. We celebrate both Easter and Passover. We know April showers will be bringing May flowers. What better time to plan an Easter Tea. I love holidays for planning a Tea because I always have a lot of leftovers that can be transformed into a delicious meal. My Easter meal consisting of tomato and mozzarella salad, ham, mashed potatoes, and a variety of vegetables, ravioli, meatballs and Italian bread will be transformed into a marvelous menu. To get the menu go to Easter 2019 menu.  The recipes will follow. Happy Holidays!
May 2019
May is such a lovely month. The rains are easing. The flowers and trees are in bloom. The weather is perfect. It is the month where we honor our parents.   All of these things make it a perfect time for an Afternoon Tea Party.
My mother loves Afternoon Tea Parties and so having one for her on Mother's Day is perfect. Invite the family over –even the guys- to celebrate Mom's Special Day. The most important things that Moms want on Mother's Day is for their family to be together and that they get to relax and enjoy an event without having to do all the work. Keeping these two things in mind you can make her wishes come true.
Weather permitting set up on a front porch, screened in porch or in the yard. Decorate the tables with beautiful linen tablecloths. Pastel colors will work best for this time of year. Brew up some mango iced tea and set out in pitchers. Delicate finger sandwiches and cucumber slices with jalapeño humus can make a great meal. Scones must be served. Clotted cream and a preserve is essential. Top the day with brownies and other sweets and you have a hit!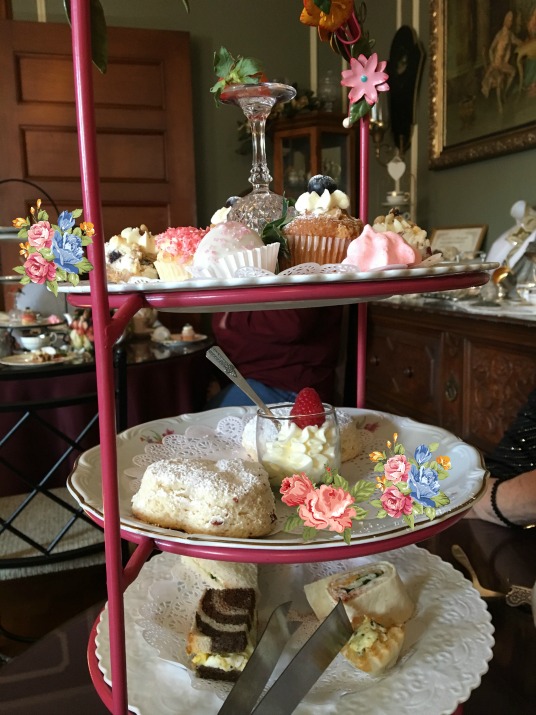 July 2019
When we get to July we are starting to feel the extreme heat. When it gets that hot, people's appetites decrease. We start to crave cold liquids and foods. We want everything to be light and easily digestible.  Consider this when planning an Afternoon Tea Party in the summer months. For summer ideas read more.
August 2019

AUGUST 2019

August is great because we all start seeing the results of our hard work in the garden. Nature's bounty arrives and we get to share with family and friends and make delicious meals with fresh items. This year is the year of Rosemary and hot peppers for me. They are the most abundant in my garden so I am making recipes just for them. I have now created my all-time favorite SCONE and I want to share it with you for your next Tea Party.
September 2019

Everywhere I go, and everything I hear, indicates that summer is over and fall is here. However, that is simply not true. Summer does not end, and fall begins, until September 23, 2019.  So take advantage of the end of summer. Even though the temperatures are cooler you can still schedule and Afternoon Tea Party- just do it by the Fire Pit. I have prepared an end of summer Afternoon Tea Party by the Fire Pit Menu that makes the best of the last minute items in the garden and the cooler temperatures. For the menu read more…
October 2019
October, the real beginning of Fall, brings us beautiful colored leaves, crisp air, pumpkins and Halloween! What better time to have a Fall Afternoon Tea Party with of course Pumpkin Soup or a Halloween Afternoon Tea Party complete with costumes.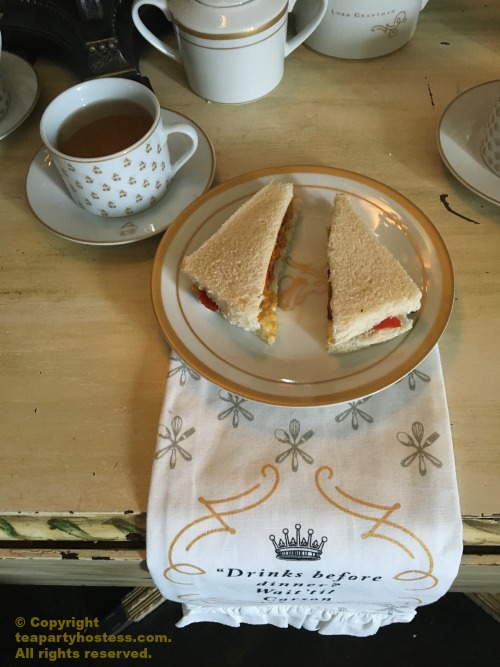 March 2020
With the COVID-19 Virus forcing us all to stay inside, we have to find creative ways to spend our time.I am cooking up a storm and holding a Virtual Afternoon Tea Party with my friends. I am making fried pepper sandwiches amongst other things. I am breaking out the Downton Abbey tea set, dressing up and sipping an supping! Here is my recipe, try it and let me know what you think.