Afternoon Tea Party Recipes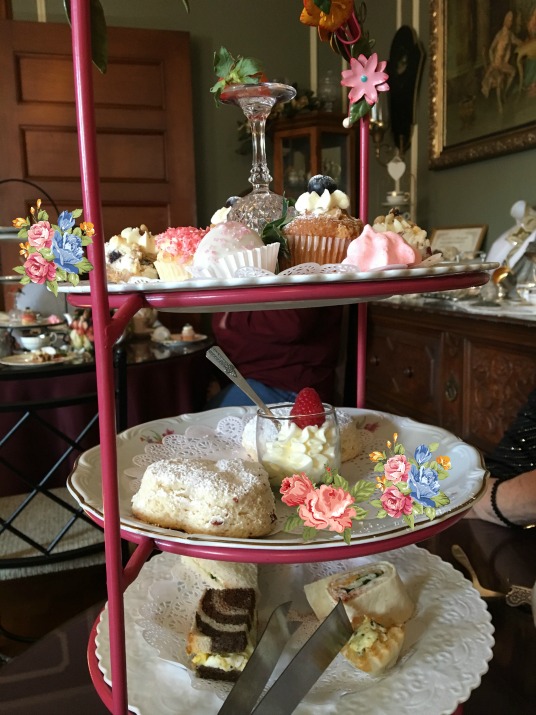 Where would an Afternoon Tea Party be without great recipes? Nowhere! That is why we are providing you with a variety of menu ideas.
FINGER SANDWICHES
     For the most part when preparing a menu for an Afternoon Tea Party you will be making finger sandwiches. If you have reviewed Tea Party Recipe Essentials than you know you will begin with thin bread and you remove the crust. You will also put a light coating of unsalted butter on one slice of the bread. Just by doing these three things you have the beginnings of a "traditional" Afternoon Tea Sandwich!
VEGETARIAN SANDWICHES
1. CUCUMBER SANDWICHES
Cucumber sandwiches are a staple of the Afternoon Tea Party. The sandwiches can vary but the cucumbers should always be cut very thin. Leaving the skin on or taking it off is optional. Leaving at least a little on can add color and a little crunch.
Italian Dressing with Rosemary Cucumber Sandwich
 Adding something as simple as a packet of Italian Dressing can make your cucumber sandwich pop. For the full recipe read more...

SCONES

 Where would a proper Afternoon Tea Party be without scones? I love scones! They are easy to make, they can be savory or sweet and you can load them up with jams, jellies and other great items. I prefer to serve my scones warm, especially the ones that are savory, but it is equally as appropriate to serve them cold. If I have help for the day of my Afternoon Tea Party than they are definitely served warm. On the other hand, if I have to do all the work myself, I have to make them, and bake them, ahead of time so they get served at room temperature. Try it both ways and see which way works best for you and your guests.
SAVORY

CHEDDAR & ONION SCONES
   This particular Scone has the dynamic duo of flavors in it. Cheddar cheese and onions together is like an explosion of flavors in your mouth. If  you want to learn how to make them read more...

Rosemary Parmesan Scones
     This is my new FAVORITE scone! I love Rosemary and this scone is so delicious i did not want to share it. To learn the secret to making it
read more...
DRINKS
Egg Nog Punch
Ingredients:
1 Gallon of Egg Nog
1.5 Quarts Vanilla Ice Cream
8 oz. Frozen Whipped Topping
1 Tbsp. Nutmeg
1 Bottle of Rum
Instructions:

All items should remain refrigerated until 5 minutes before serving.
In a punch bowl put in the egg nog, then using an ice cream scoop spoon in the ice cream, next put in the whipped topping. Sprinkle with the nutmeg and stir gently to mix in the nutmeg.
Keep the bottle of rum available for those who like their egg nog spiked. By making it this way you can serve all your guests, both those who imbibe and those who do not.
Fran's Iced Tea
Ingredients:
9 cups of water
3 decaffeinated tea bags with tag and staple removed
1 tbsp. dried mint
1 lemon washed
1 half lime washed
¾ cup of sugar or to taste
Directions:
1. Boil water and turn off the heat.
2. In the pot place the tea bags and mint. Stir once and let steep for 10 minutes.
3. Put sugar into your teapot (or other container that can both absorb the heat and go into the refrigerator).
4. Cut lemon and lime in half. Put one half of the lime away and set the rest aside.
5. Strain tea into the teapot.
6. Squeeze lemon and lime into the teapot (be careful not to get the pits in there).
7. Throw away the lime but put the two lemon halves into the teapot (I personally love eating the lemons after all the tea is finished).
8. Let stand to cool. Once cool put in refrigerator until ready to serve.
9. Serve in tall glasses with ice.
10. Garnish with fresh mint and serve. 
LEMONADE ICED TEA
  This is so simple to make and adds a nice zing to iced tea. On hot days, try serving this to your guests to excite their taste buds!

 1. Prepare a batch of Fran's Iced Tea.
 2. Prepare an equal batch of powdered lemonade by following the directions on the package.
 3. Chill both.
 4. In a tall glass pour the iced tea half way then fill the remainder of the glass with lemonade. Garnish with mint, lemon or lime slices.
 5. Add a straw and enjoy!

DESSERTS
Ambrosia
 For a delicious and easy dessert try my Ambrosia, read more...